About Us
OUR MISSION
Build a brighter future by providing smart, accessible, and environmentally conscious solutions for everyday life.
OUR APPROACH
We believe that everyone should have the options to make the right decision. To choose to benefit the environment, and take responsibility for our own impact. We're working to create access to those choices, and to make it easier to do the right thing.
We work to help everyone combat climate change, starting by redefining our relationship to our waste. Where others see an end, we see a beginning. By looking at our organic waste as a resource that can be leveraged to build a brighter future, we can unlock a world of positive potential.
Food waste and other compostable materials make up to nearly 25% of all landfill waste in the U.S. (U.S. EPA). Compostable materials trapped in landfills produce greenhouse gases, contributing to climate change. By using composting to break those materials down naturally, we shrink the distance your waste travels, keep it out of landfills, and turn it into healthy compost in the same place it was created. We take what would otherwise be a dead end for organic waste, and instead transform it into a life-builder that supports healthier farms, and higher quality produce.
WHAT WE DO
We provide residential pick up and drop off services for Los Angeles residents who may not have access to outdoor space, or the time to invest in composting themselves. We work with our commercial clients to help them take ownership of their environmental footprint. We also provide zero-waste event consulting and composting services.
---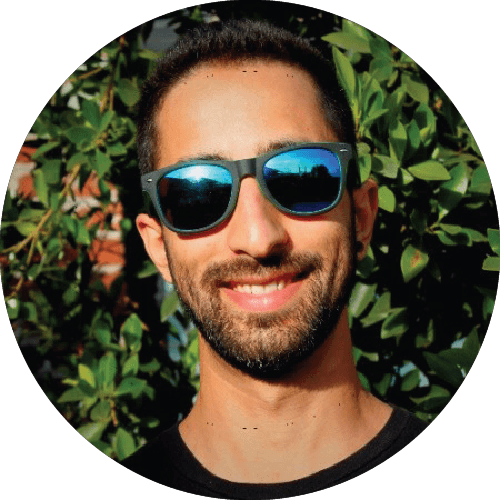 B. BABA • EXECUTIVE DIRECTOR
Baba is multifaceted entrepreneur with a passion for transforming the way business interacts with the greater community. A systems thinker focused on finding simple and efficient solutions to complex problems, he aims to create a healthier world through better, affordable, and responsible solutions. His current work centers on the development of new tools, technologies, and systems to build a brighter future.
Tess Feigenbaum • Director of OPerations
Tess is a designer and strategist passionate about creating positive impact through meaningful design. Her practice is built on the belief that impact is the culmination of small choices - as a result, she's dedicated her career to making positive choices easier. Her strategy consulting and design for social impact background drives her to connect unlikely dots, and seek innovative solutions to social and environmental challenges across sectors and industries.
JOSH REBELLO
Josh Rebello was born and raised in Lakeville, Massachusetts and holds a BS in Sustainable Food & Farming (with a focus on Food Waste) from the University of Massachusetts Amherst. There are many different ways to tackle food waste, and Josh strives to properly handle the food scraps that can't be salvaged - this is where Epic Renewal perfectly fits into his life. At Epic, Josh works on the processing, transitioning, and monitoring of the stages of composting, and the building of new acclimation pits. Josh lives car-free and strives for a minimal impact lifestyle, a fun, but quite challenging endeavor in Los Angeles.
KATHLEEN KANE
Kathleen is a queer, vegan, witchy zero waste enthusiast who loves defending the environment, raising awareness of the importance of self-care, and practicing positive and non-hierarchical forms of activism. Her work - both in the library and on the streets - centers marginalized folx, primarily focusing on food justice and prison abolitionism. As a proud literary nerd who studied English and French at UCLA, she enjoys reading everything from Oscar Wilde to Jack Halberstam and bell hooks to adrienne maree brown.
Process
BOKASHI COMPOSTING
We use bokashi fermentation to reimagine our approach to green waste in an urban environment and develop new collaborative local solutions that require less labor, utilize smaller carbon footprints, and leverage the excess capacity of concretized or indoor space in an urban environment.
Bokashi composting is an anaerobic process, using a culture of bacteria which thrive in an oxygen-free environment. They don't produce offgassing like landfills, and still lead to a healthy, living end product. A simple way to think about it is that we are fermenting our scraps to make something new and alive.
This process is ideal for indoor composting. It requires less space, offers more input options, and is perfectly suited to an urban environment or anywhere with limited green space.
1
Our customers collect all of their food scraps in one of our exchange containers, which we exchange weekly for clean ones.
2
We add the scraps to our bokashi fermenters, and allow them to ferment for 4 weeks with innoculated bokashi bran.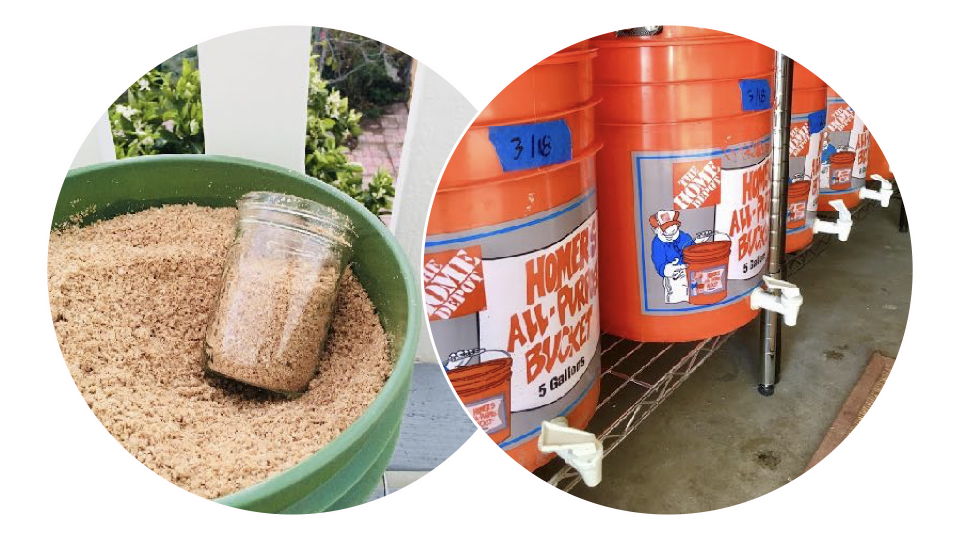 3
We acclimate the fermented material with additonal carbon to make a healthy finished soil amendment, full of life!